Teguar's New Rugged Handheld Computer for Mobile Clinicians | TRH-A5380-05
Charlotte, NC – Teguar is pleased to announce the launch of the TRH-A5380-05 Handheld Device. This is the first handheld in Teguar's product catalog, which has included rugged tablets as small as 8" since 2018. The addition of rugged tablet PCs, and now handhelds, illustrates the shift to smaller devices and full-time connectivity, allowing for real time data transfer. At the consumer level, it's now the norm to be connected at all times - to cellular, email, the web, and pretty much anything you can imagine.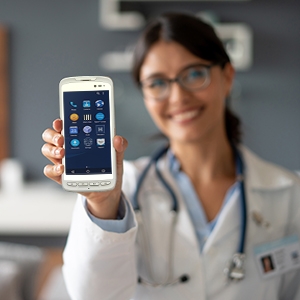 The TRH-A5380-05 is a 5" rugged handheld device that runs Android 8.1 on a quad-core ARM Cortex-A53 CPU. It has built-in NFC, 4G LTE, BT 4.0, and built-in 1D/2D barcode scanner. The 3.8V/4000mAh rechargeable battery is easily removable and has about a 7 hour operating time. White and blue, antimicrobial housing is available for the healthcare market, and this product is MIL-STD-810 certified, and IP65 waterproof rated.
Applications for Mobile Handheld Computers in Healthcare
Barcode Medication Administration (BCMA)
Barcodes are a reliable and accurate way to track medications and ensure the right prescription and dosage goes to the right patient. There are a few options of barcode scan engines available in this product, which is not so common in similar devices that can read special barcode types or at advanced read rate.
Electronic Medical Records (EMR)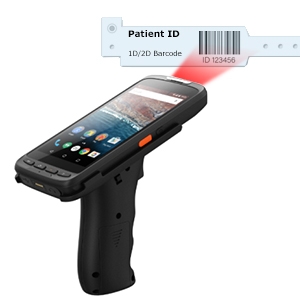 Mobile medical handheld devices allow clinicians to view and edit EMR/EHRs wherever they go. They no longer need to rely on handwritten notes taken quickly in the exam room, because they can enter information into the computer as it comes. Real-time data entry increases efficiency and accuracy of medical records.
Clinician Communication
For nurses, doctors, phlebotomists, and other healthcare professionals to provide the best possible care, they must be able to communicate clearly and efficiently. That could mean making a note on a patient's chart, logging what time the patient was seen, or recording progress in a patient's recovery. All of this is best communicated in real-time, via a secure system. Consumer grade smartphones lack reliability, sufficient privacy, and security for storing or transferring patient records.
Inventory Tracking
Tracking medications, tools, and supplies becomes easier when clinicians have the ability to scan items in/out of inventory or update an inventory list in real-time. This can also help administrators know when more materials need to be ordered. The TRH-A5380-05 can be used to track inventory by manual entry, NFC/RFID, or barcode scanning.
Physician Assisted Decision Making
Mobile computers, tablets, and handheld devices put the internet, millions of medical records, and the power of AI, all right at the point-of-care. This allows doctors to more quickly decide what tests to order, what medications to prescribe, and even make diagnoses. With this small form factor, users can quickly put it back in their lab coat pocket, keeping both hands free.
Medical Features of the TRH-A5380-05 Handheld
Anti-microbial White Housing
The TRH-A5380-05 comes standard in black, with orange features. This industrial, rugged look is not what most healthcare facilities want. The optional white and blue housing matches the bright, clean atmosphere that clinics and hospitals are expected to have. The plastic also has anti-microbial properties that reduce the spread of MRSA, microbes, and germs by up to 95%.
Built-in 1D/2D Barcode Scanner
Many of the applications mentioned above rely on barcodes. Having a barcode scanner built right into the back of the device is convenient and puts a whole workstation right in the palm of your hand.
NFC Reader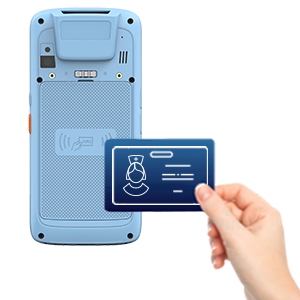 Not only do ID badges identify someone by the picture and name printed on them, but they often have RFID chips in them too. RFID can be used to grant someone access to a building or medical supply cabinet. It can also be used to grant someone access to electronic medical records or a hospital data base. RFID/NFC is a quick way to positively identify someone and unlock the device, track inventory, or act as a two-step authentication factor.
Swappable Battery
The battery life of the TRH-A5380-05 is about 7 hours and the battery is conveniently located on the outside of the unit. So, when one battery is depleted, it can be swapped out for a fully charged one in just seconds. The optional docking station has a bay for battery charging, so you can charge a tablet and a battery at the same time, or the tablet can be charged directly with a charging cable.
Rugged Housing
The TRH-A5380-05 is MIL-STD-810 rated, which is a military standard used to certify the ruggedness and durability of a product. In emergency medical situations or busy hospital environments, you don't have time to worry about fragile electronic equipment. This handheld can withstand drops and shocks. It can also withstand wash-downs and frequent cleanings. The TRH-A5380-05 is IP65 waterproof rated, so you can rinse it off under running water, or wipe it down with medical grade cleaners.
---
See more details about the TRH-A5380-05, or contact us to discuss your project or request a demo.