Teguar Computers Used by WA Clinic to Test for COVID-19 Symptoms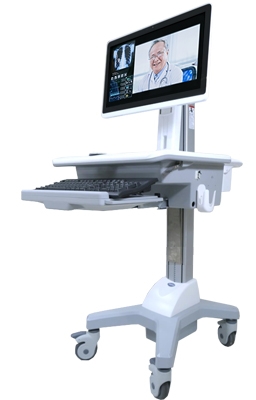 A drug treatment clinic in Washington state purchased nine Teguar TM-5557-22 Medical Computers to help keep operations running smoothly and protect patients and staff during the COVID-19 pandemic. Some of the computers are set up in tents outside of the clinic to screen patients for Coronavirus symptoms and complete the patient check-in process from a distance. The other computers are being used inside the facility for telehealth appointments.
The computers used in patient check-in tents help keep distance among patients and staff and they alert patients and doctors when COVID-19 symptoms are present. This allows front desk staff to work from home and minimizes face-to-face interaction. The TM-5557-22 is a great solution for this application because it was built for medical carts. It's lightweight and easy to move around, so staff can quickly pull the computers inside at the end of the day. This computer has antimicrobial housing, which prevents the growth of viruses and bacteria. It also has a waterproof front bezel, which is easy to spray and wipe down between patients, to kill any germs left on the touchscreen.
The other way the clinic is using the TM-5557-22 is for teleconferencing to provide medical care and counseling remotely. The clinic utilizes the computer's built-in 2x 2W Speakers, 2MP webcam, digital microphone, Wi-Fi, Bluetooth 4.2, and on-screen keypad. The 21.5" touchscreen provides an easy-to-use, high definition display.
The TM-5557-22 is a feature-rich, medically certified computer. It is built with industrial-grade components, but priced like a consumer-grade computer. It is always important to have reliable computer hardware, but especially now, when it might not be possible for a technician to come out and service the computer. This clinic needed the medical computers, so they could help slow the spread of the Coronavirus, but the computers will last long past this pandemic.
For more information, visit our COVID-19 Communications Center or contact us to discuss your project.