Teguar 15" Medical All-in-One Used with Lung Ventilation Machine
Lung Ventilators Use Teguar Medical Computers to Treat COVID-19 Patients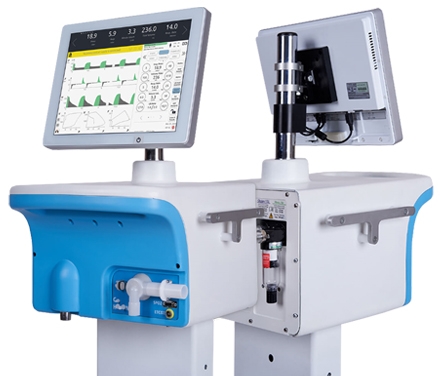 In Turkey, organizations are teaming up to manufacture 5,000 ventilators to treat COVID-19 patients. The lung ventilators use Teguar's TM-5040-15P Medical All-in-One PC to display patient vitals and control the breathing apparatus. The TM-5040-15P is ideal for the lung ventilator because it has a 4:3 screen ratio and can run the Linux operating system. The system's software was already developed when the medical device manufacturer came to Teguar. So, we worked to find the right computer hardware fit.
The TM-5040-15P is not actually available in Teguar's product catalog. When it comes to medical OEMs (Original Equipment Manufacturers), computer hardware needs can be very specific and unique. Teguar is used to developing one-of-a-kind solutions for new medical devices and machines. In this case, the TM-5040-16 Medical Computer had all the right capabilities, but was not the right screen ratio. Teguar carries similar models in a 4:3 screen ratio, so it was a matter of combining the right features, into the right housing.
Another feature of the TM-5040-15P that makes it perfect for the lung ventilator is its full-flat, waterproof front bezel, which can easily be sprayed and disinfected. This computer is also housed in medical-grade antimicrobial plastic, to prevent the spread of COVID-19 and other germs. It is lightweight enough to be pushed around on a medical cart, but it is durable and can withstand bumps and vibrations.
Normally, it can take months or even years to deploy a new medical device or machine, but the Coronavirus pandemic requires us to move quickly. Teguar was able to send 12 computers for testing to the Turkish biomedical manufacturer. The TM-5040-15P proved to be the best PC for their lung ventilators and Teguar proceeded to send 100 more units. Teguar will continue to prioritize this order and other COVID-19 related orders, and work to send the rest of the units to Turkey over the coming weeks.
---
For more information, visit our COVID-19 Communications Center or contact us to discuss your project.