New Core i3/i5/i7 Fanless Box Computers with PCIe and DIN Rail Mount Options Now Available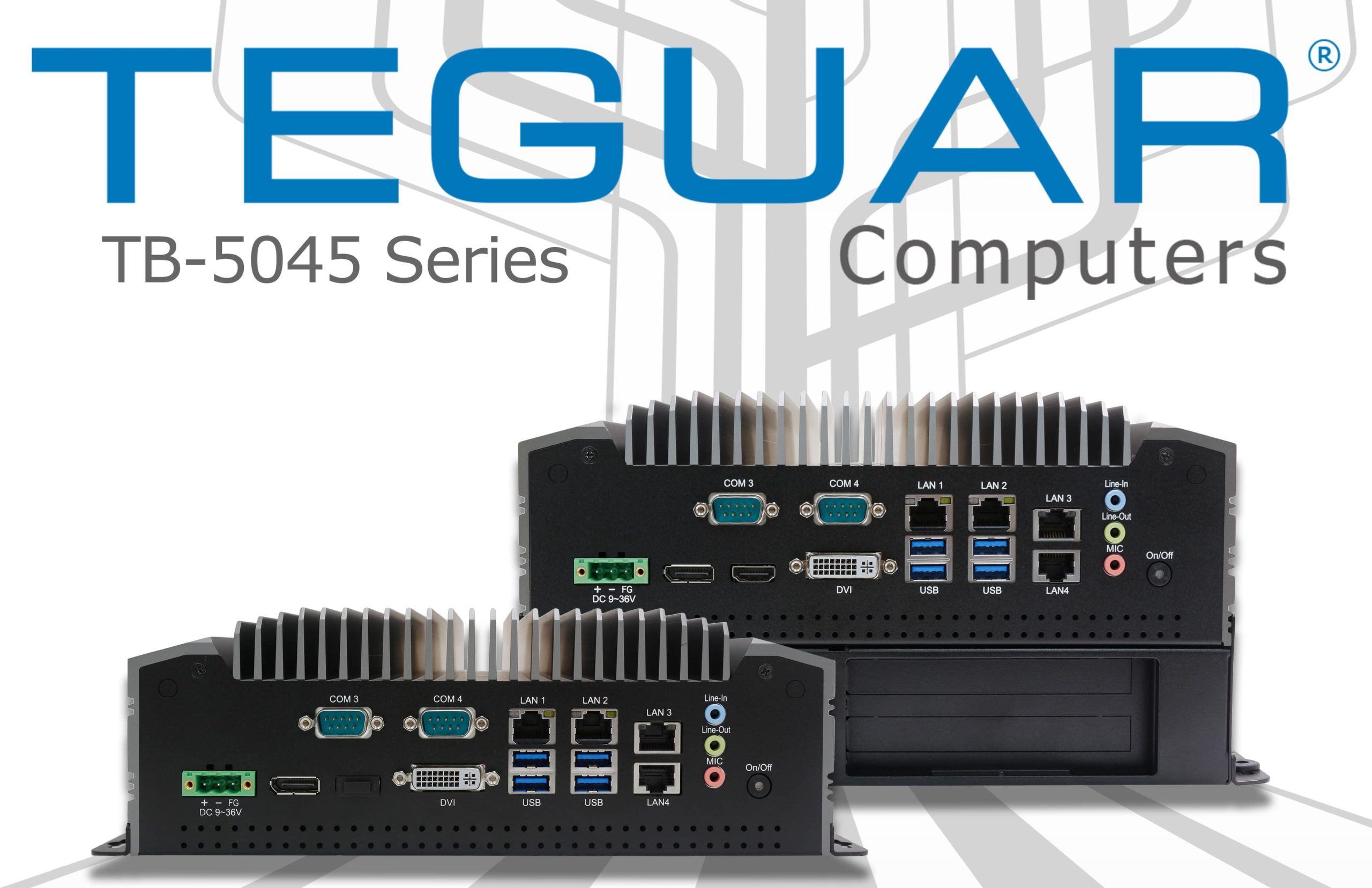 Charlotte, NC - Teguar has released two new high performance fanless box PCs. The TB-5045 and TB-5045-PCIe box PCs are available with Intel 6th generation Core i3, Core i5, or Core i7 desktop processors. This series offers significant performance improvements over previous generation models. The unique thermal design of the TB-5045 and TB-5045-PCIe enables the use of 35W desktop processors, making them the highest performance fanless embedded systems available today.
Many other fanless computers include ULV (ultra-low voltage) mobile CPUs. These ULV CPUs have lower power consumption, and are commonly used in mobile applications to prolong battery life, but they do not offer the performance required for many industrial applications. The CPU options for the new TB-5045 series fanless industrial PCs include the sixth generation Core i5-6500TE Quad Core (6M Cache, Up to 3.3GHz) and the Core i7-6700TE (8M Cache, Up to 3.4GHz). These desktop CPUs offer a 50% performance improvement compared to their ULV counterparts, as the ULV CPUs are typically limited to two processing cores. The performance of these new fanless box computers is also enhanced with the support for dual channel DDR4 memory, which can be expanded up to 32GB for the most demanding industrial computing applications.
The TB-5045 series box PCs have improved storage capabilities compared to previous generation models. They include two externally accessible 2.5" drive bays for easy installation and removal to solid state drives or hard drives. Many machine vision or surveillance applications benefit from this feature, as one drive can be dedicated to the OS, and the other can be designated for data. Other mission critical applications will benefit from the data redundancy capabilities of these fanless box PCs, as they support for RAID (0/1) disk arrays.
The TB-5045 series fanless box PCs include a comprehensive set of I/O ports to meet the requirements of almost any industrial computer application. The 4 x Gigabit Ethernet ports allow for simultaneous connectivity to the local network, PLC devices, and IP cameras. The four USB 3.0 ports allow for high bandwidth data transmission with external devices and sensors. These models also come standard with 4 x COM ports for connectivity to other peripherals.
The TB-5045 industrial computers offers cutting edge capabilities for graphics and video outputs. These fanless embedded systems include 1 x DisplayPort, 1 x HDMI, and 1 x DVI allowing for three separate monitors to be connected. These video outputs are capable of driving three independent displays, meaning that separate content can be displayed on all three monitors simultaneously.
The TB-5045-PCIe model includes PCI Express expansion, and it is configurable with two different PCIe expansion options. If multiple I/O expansion cards are being installed, the TB-5045-PCIe can be equipped with 2 x PCIe expansion slots. It can also be equipped with a riser card to handle one PCIex4 slot for higher bandwidth requirements for applications that may require a frame grabber card or a quad GbE LAN card.
With embedded PCs on the rise, the TB-5045 and TB-5045-PCIe enter a new class of high performance fanless computers that are designed to withstand extreme conditions including dusty environments, high shock and vibration, and wide temperatures. They are long life cycle products that will be available for several years and can support growing computing demands.
---
Teguar now offers the 7th generation core i3/i5/i7 CPU in the same form factor. Check out the TB-5545 and TB-5545-PCIe.