Rugged Handheld Device with Android 8.1 | TRH-A5380-05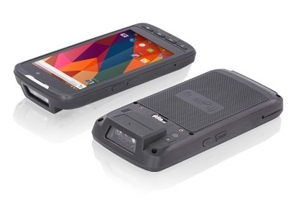 Teguar's TRH-A5380-05 is a handheld mobile computer with a rugged enclosure and a quad-core ARM Cortex-A53 CPU. Earlier this year, Teguar launched the rugged handheld with blue and white, anti-microbial housing, geared towards the medical market. Now, we are pleased to launch this product for the industrial market.
Rugged Handheld Computer Features
Quad-Core ARM Cortex-A53 CPU 1.4 GHz
The TRH-A5380-05 runs Android 8.1 on a power efficient and compact MT8735A processor. It is also GMS certified for Android 8.1, ensuring apps from the Google Play Store will run properly on the device along with other MDM services. The Android operating system is becoming more popular in industrial applications, as it is easy-to-use, low cost, and gives developers more control to customize applications to fit their business needs.
1D/2D Barcode Scanner and Optional Pistol Grip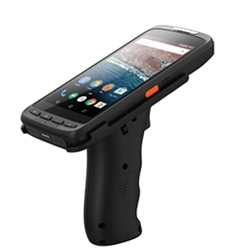 A key feature of this rugged handheld device is the integrated barcode scanner. You no longer need a two-piece solution that combines computer and scanner, because the TRH-A5380-05 puts it all in the palm of your hand. The optional pistol grip holder is convenient for quick scanning and applications where barcode scanning will be the main function of the handheld PC.
Fully Rugged and Waterproof
The TRH-A5380-05 is MIL-STD-810G rated, which is a military standard that certifies the ruggedness of systems. The device can handle drops, shocks, and vibrations, such as from a machine or vehicle. It is also IP65 rated, meaning it is fully protected from dust and dirt and it can handle water spray at many angles.
Inputs/Outputs and Function Keys
Something you won't find on smartphones and consumer-grade devices is the I/Os and function keys found on the TRH-A5380-05. Teguar's rugged handheld has two programmable function keys, to tailor it to your application, and a micro USB 2.0 OTG port, to attach other devices and peripherals as a client or host. It also has gold plated pogo pins for reliable drop-and-go docking into the optional docking station.
Applications for an Industrial Handheld Computer
Warehousing and Inventory Management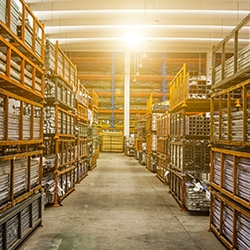 Handheld devices allow warehouse workers to communicate seamlessly and in real-time, scanning and receiving inventory, picking and labeling inventory, efficiently performing stock audits, and more. You can also carry the TRH-A5380-05 across your warehouse floor without fear of dropping and damaging it.
Retail and Hospitality
Having a barcode scanner and computer in a compact and lightweight package allows retail and hospitality workers to communicate with back end infrastructure, from wherever they are. For example, a retail clerk can check backroom stock, without leaving the customer, or a ticket agent can scan tickets at a concert or sporting event and accurately monitor attendance and traffic flow.
Logistics and Supply Chain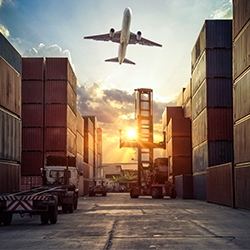 From the time your goods leave the manufacturing facility, to the time they are sold to a customer, mobile devices can help track your assets the entire way, increasing supply chain visibility, accuracy and efficiency. Having Wi-Fi and 4G LTE built-in allows users to always be connected to systems providing real-time transactions.
The TRH-A5380-05 has endless applications across many different industries, from manufacturing and logistics to hospitality and healthcare. As our world becomes more digital and our devices become smaller and more reliable, it's time to ditch the clipboard and pen, for a durable, mobile computing solution.
---
See the product specs and contact us to discuss your project or request a demo.