Teguar's New 24" Medical Cart Computer with Hot-Swappable Batteries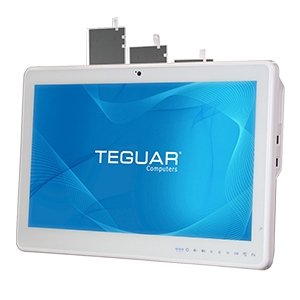 Teguar's Medical Cart Computers are distinguished by their built-in batteries, so that the computers can move around a facility, without the limitation of power cords. Mobile workstations can also be powered by heavy batteries attached to the medical cart that make them bulky and expensive. Teguar Medical Cart Computers are easy to push around and provide a more cost effective solution than a powered cart plus a medical computer.
Hot-Swappable Batteries
The TM-5510-24 has 3x 7500mAh Li-ion batteries with battery life indicators. The batteries provide 8-10 hours of power on a single charge and can be swapped out for fully charged batteries, without powering down the computer. A separate battery charging bank can charge all 3 batteries at a time, so you can conveniently run this computer 24/7, without ever stopping to charge the batteries or the computer.
Large HD Display with Touchscreen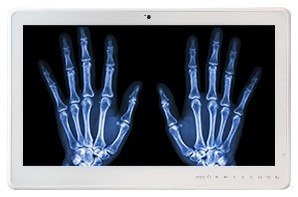 The TM-5510-24 is the largest computer in Teguar's catalog of Mobile Cart Computers. The 23.8" touchscreen gives you enough screen real estate to open multiple windows at once and it is the preferred size for certain medical software, such as Epic. The LCD display is full HD with 1920 x 1080 screen resolution and has a projected capacitive touchscreen, which can register touch with thin medical gloves, bare hands, and a capacitive stylus pen. The TM-5510-24 also has a touchscreen-lock key, which is useful for cleaning the touchscreen.
Configurable for DICOM
This PC can be configured for DICOM imaging. DICOM (Digital Imaging and Communications in Medicine) is used to send, receive, and store medical images. It ensures that an image will display the same across multiple devices. Doctors can send an x-ray or scan around the globe to another provider, and be assured that it will display properly.
Isolated I/O Ports
The option for 4KV isolated LAN, COM and USB ports allows the computer to be connected to various medical devices, including devices and sensors that are directly connected to the patient. The I/Os are isolated from the rest of the motherboard, to prevent the leakage of electric current. Small amounts of electric current can damage other medical devices, and even be transferred to the patient, or it can damage the computer itself. Isolated I/Os protect the patient, the computer and other medical devices.


Expansion Options
This medical computer can accommodate a PCIe/PCI expansion riser card. The expansion can be used for high performance video graphics or image capturing. The TM-5510-24 also has MXM graphic support for 3D medical imaging.
---
Learn more about Teguar's TM-5510-24 Medical AIO or contact us to discuss your project or request a demo.