New 15" Medical Computer Ideal for Original Equipment Manufacturers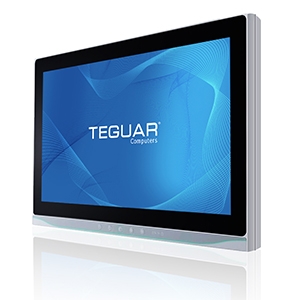 Teguar's TM-4033-15 Healthcare Computer is highly versatile and customizable, with expansion and customization options that make it ideal for Original Equipment Manufacturers (OEMs). It can be configured in several different ways, with unique features that OEMs often need. The TM-4033-15 allows OEMs to breeze through the design and development phases that typically go into deploying OEM computer hardware.
Features
This computer is 60601-1 4th Ed. Medically certified and runs on a power-efficient Intel Celeron J1900 Bay Trail Processor. The TM-4033-15 is a competitively priced medical computer, with features including a 15.6 inch LCD touchscreen, antimicrobial plastic housing, fanless cooling, and a rich selection of input/output and expansion ports. I/Os include 1x 4KV isolated COM port, 2x regular COM ports, 2x LAN, 2x USB 3.0, and an audio line-out. This computer also has 2x 3 watt speakers and convenient front function keys including Brightness +/-, Display on/off, and Volume +/-.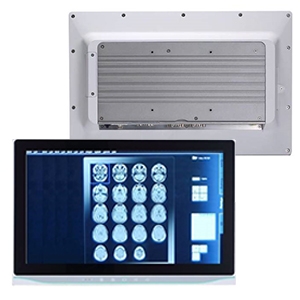 At just 2.2 inches thick, this slim medical computer can fit into tight spaces and it is lightweight and durable enough to mount on an ergonomic arm, such as at a patient bedside terminal. The full-flat, IP65 rated front bezel is easy to clean. IP65 means the front of the unit can be sprayed with low pressure waterjets at any angle, making it easy to clean and disinfect the computer.
Customization Options
The TM-4033-15 provides two types of power input: DC power input (9 to 36VDC) with terminal block connector, which is often preferred by OEMs, or a standard AC medical power adapter (100 to 240V AC-DC) with a secure screw type connector. Expansion options include a Full-size PCI Express Mini Card with mSATA (for Wi-Fi) and a Full-size PCI Express Mini Card with SIM (for 4G LTE). The expansion ports allow you to expand wireless capabilities, utilize 4G LTE networks, or add more storage. The TM-4033-15 also has the options for an integrated smart card reader and a Wi-Fi + Bluetooth kit.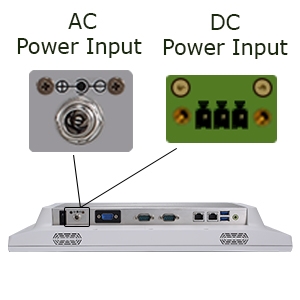 The touchscreen can either be projected capacitive (Pcap) or resistive. Pcap is what we've come to know with our smartphones and tablets; it is responsive and smooth and works with thin medical gloves, bare fingers, or a capacitive stylus pen. Resistive touch is pressure based and it is recommended for environments with high amounts of electrical noise or radiation, such as in an X-ray room, because the electromagnetic current can interfere with PCap touchscreens.
The TM-4033-15 also has a VESA 100x100 mounting pattern, which fits most medical carts and arms, or it can be used to mount the computer onto a desktop stand or medical machine or device.
Summary
The TM-4033-15 is compact and durable, power efficient, medically certified, and cost effective. It has a wide range of I/O ports, expansion options, and customizable features that make it ideal for Original Equipment Manufacturers, because it can provide the unique configurations that OEMs need, without going through the design and development process, therefore reducing time to market.
---
See more information and product specs for the TM-4033-15, or contact Teguar to discuss your project and request a demo.