Technical Articles & Industry Trends
Designing Waterproof Computer Solutions for the Food Processing Industry
Food processing facilities are one of the most inhospitable places you can put a computer; but since modern food processing facilities are often controlled by computers, we have no choice but to place units into these environments. Airborne particulates, spraying liquids, and meat parts are all regular hazards for computers in the food processing industry. The answer to these concerns is to utilize an industrial-grade computer, capable of withstanding conditions far harsher than your home office.
In Need of a Better "Solution"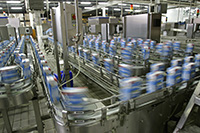 Food processing companies have struggled for years with how to provide the right kind of interactive process controls for their machine operators so that the efficiency of their operations remains high. Sometimes this takes the form of human machine interfaces (HMIs) coupled with programmable logic controllers (PLCs); sometimes it means purchasing and retrofitting consumer-grade products to be "industrial-grade" with DIY solutions; and other times it means contracting with industrial solutions providers who merely retrofit consumer-grade products into rugged enclosures.
Each of these "solutions" invariably create more problems than they solve. HMIs and PLCs generally require a waterproof enclosure to protect them in food processing environments; DIY projects are best left at home where the stakes are less costly; and solutions providers offering services that are no more advanced than what you could perform yourself, are not likely to result in the desired outcome.
Engineering a Better Food Processing Computer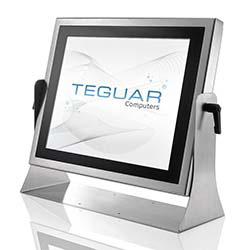 The engineers at Teguar Computers began to notice these problems when discussing projects with food processing clients and set out to find a better solution to meet the unique and demanding requirements of the industry. The solution was to construct highly specialized all-in-one waterproof computers and waterproof monitors. Rather than taking a cheap consumer-grade option and putting it in a more industrial enclosure, the goal was to make a fully industrial-grade product that could be installed in food processing facilities without the need for extensive and costly alterations.
Industry professionals wanted to see fanless cooled and fully-waterproof units that were far less clunky than currently available options. This would improve operational efficiencies if their computers and monitors had a less cumbersome footprint. For many facilities, especially those involved in meat/poultry/seafood processing, computers were needed that would be completely sealed to protect internal components from sanitation cleanings after each shift.
The Perfect Food Processing Computers & Monitors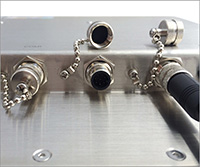 The solution is Teguar's collection of waterproof computers and monitors specially tailored to the needs of the food processing industry. Unit housings are crafted of stainless steel with a thin profile, curved edges, M12 metal input/output connectors, and an IP66/NEMA 4X dust and waterproof rating.
Each computer or monitor comes standard with a full-flat front bezel and customers can choose from either a resistive or projected capacitive touchscreen. These units were designed and built to be inserted into food processing environments and to operate reliably for years of 24/7 use. Regular wash down procedures won't slow or damage these fanless waterproof computers or monitors.
---
Teguar will soon be launching an extended line of its waterproof computers to provide a wider variety of screen sizes to food processing engineers. Below is a list of currently available units: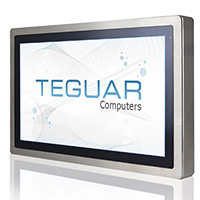 Waterproof Computers
15" Fanless Intel Core i3/i5/i7 Touch PC (TS-3010-15)
19" Fanless Intel Core i3/i5/i7 Touch PC (TS-3010-19)
22" Fanless Intel Core i3/i5/i7 Widescreen Touch PC (TS-3010-22)
15" Fanless Intel Celeron Quad Core Touch PC (TS-4010-15)
19" Fanless Intel Celeron Quad Core Touch PC (TS-4010-19)
Waterproof Monitors
15" Fanless Widescreen Touch Monitor (TSD-45-16)
19" Fanless Widescreen Touch Monitor (TSD-45-18)
22" Fanless Widescreen Touch Monitor (TSD-45-22)