New High Brightness Rugged Tablets
Charlotte, NC - Teguar's TRT-4380-08 and TRT-4380-10 Rugged Tablet PCs are now available with sunlight readable LCDs. These two tablets provide a rugged, long-lasting solution for industrial and field applications. Teguar is pleased to now offer them with high brightness LCD's. The TRT-4380-08 comes with a standard brightness of 400 nits and the TRT-4380-10 with 280 nits, both of which can be difficult to read under sunlight or bright factory lights. The optional high-brightness screen on the TRT-4380 Series comes in at 700 nits for the 8" tablet and 750 nits for the 10". To put this in perspective, the graphic below compares Teguar's TRT-4380 Series with popular smartphones on the market today.
Phones and tablets with standard brightness can be difficult to read outdoors in the sunlight, particularly if you are using the tablet for finding and entering client information. Pictured below is the TRT-4380-10 with the standard 280 nits (left) and with the high brightness 750 nit option (right), on a sunny day.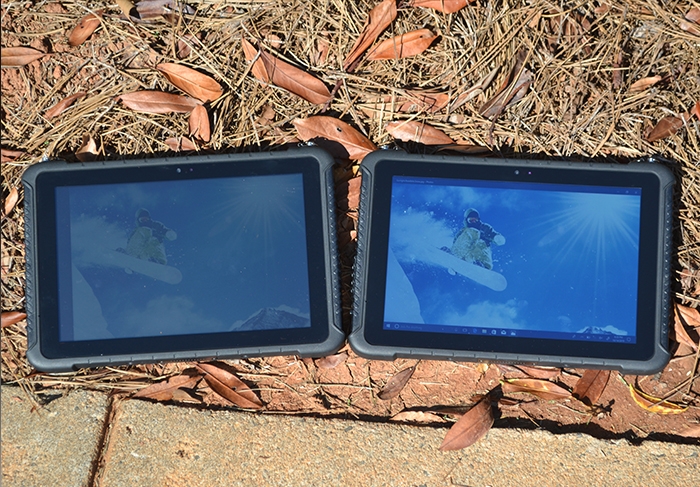 Learn more about sunlight readable LCDs in this blog or contact us today to discuss your project.