TRH-A5380 Series | Rugged Handheld
About the Series
The TRH-A5380-05 is Teguar's smallest device, with a 5" touchscreen. This powerful mobile device fits in the palm of your hand and it is rugged enough to withstand drops and spills. It is IP65 rated and MIL-STD-810G drop and shock proof. The 4000mAh battery is easily removable and can be charged with the optional desktop cradle, so you can switch the battery to keep the tablet running shift after shift. The optional built-in 1D/2D barcode scanner can be used to track inventory, for Barcode Medication Administration, positive patient ID, and point-of-sale applications. Running on a quad-core ARM Cortex-A53 CPU, the TRH-A5380-05 has endless applications in industries such as logistics, warehouse management, retail, and healthcare.
Key Series Features
5" Capacitive Touchscreen
Quad-core ARM Cortex-A53 CPU 1.4 GHz
Optional White Housing and Accessories
Built-in NFC, 4G LTE, and 1D/2D Barcode Scanner
Series Features
Optional Anti-Microbial White Housing
The optional white housing is nice for medical applications, where environments are clean and bright. The white housing also has an option to incorporate anti-microbial properties, to prevent the buildup of germs and microbes, and prevent them from spreading throughout your healthcare facility.
Industrial Grade Rugged Housing
The TRH-A5380-05 is IP65, meaning it can be sprayed with low pressure waterjets from any angle, so rain, humidity, dirt, and dust are no challenge for this tablet. It is also MIL-STD-810G rated, a military standard that ensures the ruggedness of the product, so it can withstand multiple drops and tumbles. The tablet is also constructed with a high strength Gorilla Glass touch panel to help prevent shattered glass and easy scratches.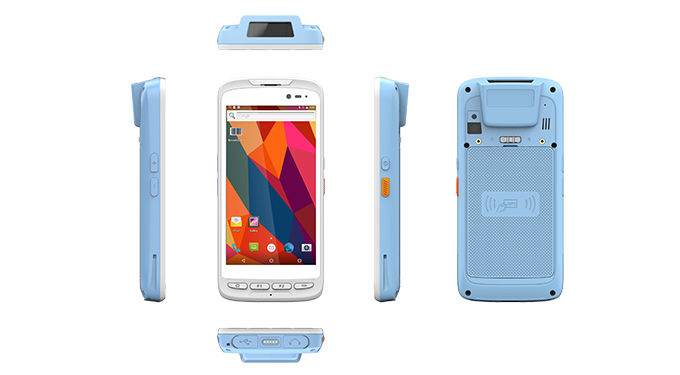 Optional Docking Station
Expand the capabilities and convenience of this handheld even further with the optional docking station. The docking station utilizes gold plated pogo pins for easy docking and reliable connectivity, a LAN port for network connections that are useful for daily updates, two conveniently located USB ports on the front, and a battery charging slot with LED indicator. The handheld and battery can be charged simultaneously.
Removable Battery
The 4000mAh battery lasts 7 hours and it has an easy removable design while still maintaining IP waterproof ratings. This battery can be charged separately so you can use the tablet shift after shift, by swapping out the depleted battery for a fully charged one.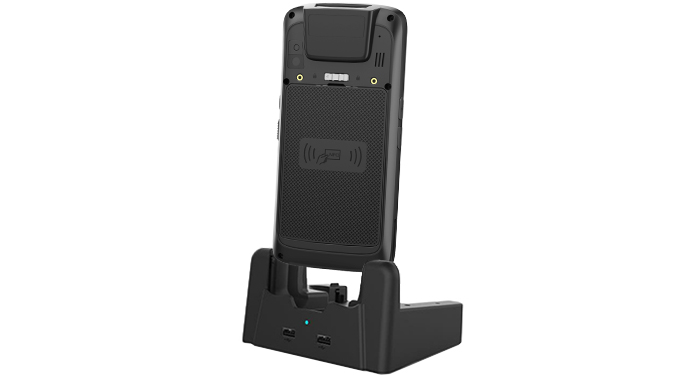 Accessories and Features
You can optimize the tablet for barcode scanning, with the optional handheld pistol grip enabling easy trigger scanning. The TRH-A5380-05 also comes with a wrist strap and 4 user facing physical tactile keys along with a dedicated scan button on the side. Two of the front function keys can be programmed to launch or trigger other custom events and two volume buttons on the side allow for quick adjustments.
GMS Certified for Android 8.1 Oreo
GMS (Google Mobile Services) Certification ensures that your device meets Google's performance requirements and that the Google suite of apps will run properly on the device. It also confirms that devices will interact seamlessly and provide full access to the Google Play Store and other services.