Technical Articles & Industry Trends
Four Things to Consider when Choosing the Best Outdoor Computer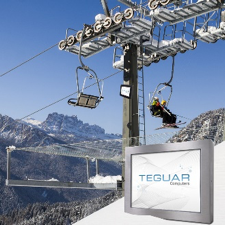 Teguar offers several different types of outdoor computers, and each of these can be configured for specific environmental conditions. Outdoor panel PCs and outdoor box PCs include features that enhance their functionality in these environments and also increase their reliability. There are some important aspects to consider when selecting an outdoor computer to ensure it performs as expected and survives potentially harsh conditions. 
Go Fanless
Most industrial PCs, panel PCs, and box PCs used in outdoor applications are fanless.  Fanless is preferred for outdoor applications because these environments are often times subject to dust and contamination. An outdoor computer should be protected from this. When dust contaminates a computer, it can coat the internal components, which may slow the system performance or even cause an outright failure. Fanless panel PCs and fanless box PCs offer protection from dust contamination. 
Consider Operating Temperature
Most outdoor applications are not temperature controlled environments.  Therefore, a wide temperature rating is typically one of the most important requirements for outdoor computers. A 20~60C operating temp rating or greater is usually acceptable for most outdoor computer applications. The high-end temperature rating is typically more important than the low-end temperature rating. When a computer is running where the ambient temperature is above the rated operating temperature, performance and reliability can be affected. As Intel CPUs reach maximum operating temperature, a self-protection mechanism called thermal throttling is initiated. Thermal throttling slows down the processor speed to reduce the heat a CPU is generating which prevents the CPU from overheating and damaging itself. The system still operates during thermal throttling, but performance can suffer greatly, and the lifespan of the computer can be reduced. Systems running in ambient temperatures above their rated operating temp can shorten the life of other components in the system like ICs and bulk capacitors. It is important to use industrial temperature memory and industrial temperature solid state drives for these outdoor computer applications. Wide temp memory and wide temp storage should be rated at 85C to accommodate the higher internal temperature of the computer.   
The negative (below freezing) operating temperature rating is typically not as important as the high-end rating. This is because when the computer is running in a negative temperature environment, it is generating heat and warming itself. The negative operating temperature range is typically only a concern during cold boots (no pun intended), where certain features may not perform as reliably. For example, the magnetics in an Ethernet Phy may behave differently in extremely negative temperatures, and this could cause errors in ethernet transmissions if a computer is turned on for the first time when sitting in extremely low temperatures. It is important that the outdoor computer meets the operating temperature requirements of the environment. Teguar has many wide temperature panel PCs and wide temperature box PCs to choose from for outdoor computing. 
Consider Water Exposure and IP Rating
If an outdoor panel PC is exposed to water, an IP65 environmental rating is required at a minimum. Stainless steel is also recommended to prevent oxidation. Teguar offers panel mount panel PCs and stand-alone all-in-one panel PCs for outdoor computing. When a Teguar panel mount touchscreen panel PC is mounted into a cutout in an enclosure, the front side of the enclosure is protected from water. Many Teguar panel mount panel PCs can be configured with an optional stainless steel front bezel, making them waterproof and rustproof. Teguar's stand-alone stainless steel touchscreen panel PCs (TS-5010 series and TS-4010 series) are waterproof solutions with IP65/IP66, IP67, and IP69K environmental ratings. These models include waterproof M12 connectors for I/O ports such as LAN, USB, and COM. They are also available with waterproof Wi-Fi antennas for outdoor computer applications.  
Consider LCD Viewability for Ambient Light Conditions
LCD viewability is an important factor when choosing an outdoor panel PC.  Ambient sunlight can reduce the viewability of an outdoor panel PC, but there are ways to overcome this. The first and most common way is to increase the LCD brightness. Sunlight readable 1000 Nit LCDs are available on many of Teguar's panel PCs including the TS-4010 series, TS-5010 series, TP-2945 series, TP-3045 series, TP-3010 series, and TP-4010 series. Outdoor viewability can also be improved with optical bonding. Optical bonding is the process of bonding touchscreens to the LCD surface with special adhesive gel. The substrate hardens during the optical bonding process and fills the air gap between the LCD and touchscreen. Optical bonding reduces light reflections between the LCD surface and the touch glass and improves display contrast and clarity. Both of these factors contribute to better viewability in sunny environments. 
Contact a Teguar Sales representative to learn how products can be customized to be suitable as and Outdoor Computer.