Technical Articles & Industry Trends
How to Choose an Industrial Panel PC in 2022 and Beyond
Choosing a new industrial panel PC comes with many challenges. Decision-makers need to consider multiple elements like mounting options, operating temperatures, reliability in different environments and changing form factors, just to name a few.

The list-based, pedestrian analysis of features and benefits will not suffice for a product as complex as industrial computers. Not only do you need to think about "the now," but you also need to think about "the future."
In this article, we'll provide you with the key elements to consider when choosing an industrial panel PC to save you time and prevent you from making an unwarranted purchase.
---
Analyze Your Operating Environment
Conditions vary from industry to industry. The medical field has different requirements and certifications than an automotive manufacturing plant. It's essential to know your specific needs to choose the industrial computers with the right features.
What Ingress Protection (IP) Rating Do You Need?
An Ingress Protection (IP) rating grades an industrial computer's ability to protect against harmful contaminants like liquids or dust. Harsh industrial environments require a higher IP rating than less demanding operations.
Choosing an industrial panel PC with an incorrect IP rating could result in damage to your computer system and a technical failure in the field.
The International Electrotechnical Commission would be an excellent place to find out what IP rating you need for your industrial panel PCs.
What Is the Operating Temperature of Your Industrial Environment?
The boiling heat of an industrial oven or the below-freezing temperatures of a food processing plant requires a computer system capable of withstanding these extreme temperatures.
When choosing your industrial computers, make sure to ask the supplier about their operating temperatures and reliability. This can help you avoid costly replacements.
---
Understand Your Technical Needs
Your industrial panel PC's technical needs will depend mainly on the types of operations your company performs.
For example, some operations don't need high-performance processing power, so one could opt for a cost-effective low-performance solution.
Talk with your team to determine the technical requirements you need, but for now, here are some key technical features to consider.
Projected Capacitive vs. Resistive Touchscreens
Have you ever tried to interact with your smartphone while wearing gloves? The screen doesn't register the touch very well, does it? That's because it's a projected capacitive touchscreen. Most consumer electronics use this type of technology.
This leads to the next question: do your workers wear gloves? If they do, then your industrial computers will need a resistive touchscreen. This type of technology registers touch from gloves or a stylus.
In environments where gloves are required as a safety measure, it's essential to choose an industrial panel PC with a resistive touchscreen to keep your workers protected.
Screen Visibility in Bright Conditions
Whether sun glare or a facility's bright lights, operations in bright conditions require sufficient visibility of an industrial panel PC's screen.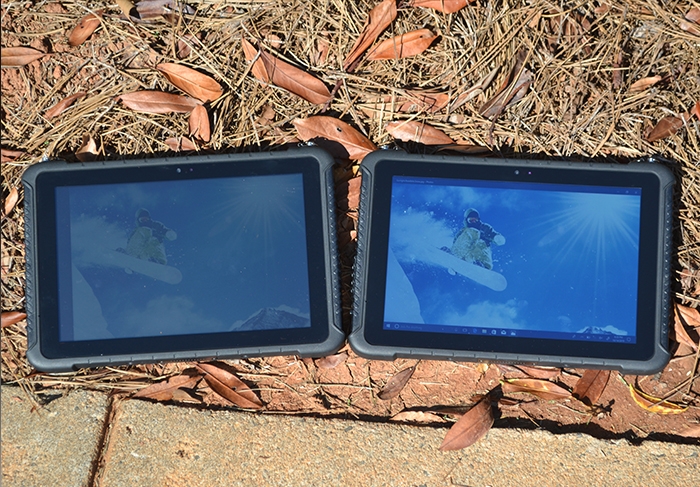 Workers need to see the screen clearly to avoid making errors or slowing down industrial processes. Any industrial panel PC you implement going forward, touchscreen or not, should be fully visible.
Fanless Cooling Systems
If your current industrial computers don't incorporate a fanless cooling system, then it might be time to upgrade. Industrial panel PCs with a fanless cooling system have fewer moving parts and deliver 24/7 reliability.
This unique cooling system dissipates heat through a metal chassis instead of a spinning fan. This keeps your computer cool in extreme temperatures and protects it from the accumulation of dust.
High Performance vs. Low-Power Processors
Choose an industrial computer that matches the performance requirements of your operations. High-performance processors are usually needed for applications like optical inspection, machine vision, data acquisition or CAD viewing.
On the opposite end of the spectrum, applications like human-machine interface (HMI), scanning barcodes, weighing materials or labeling packages require a low-performance cost-effective solution than its high-performing counterpart.
---
Search For Industrial Computers with Long-Lasting Reliability
Do you want to change your computer systems every 1 to 2 years? Those replacements can add up very quickly and start cutting into profits.
When choosing an industrial computer, look for companies that offer durable products with long-term support. Here are two key points to consider when choosing an industrial panel PC.
Unchanging Form Factor and Long-Term Parts Supply
Maintaining compatibility with your I/O configurations, mounting arrangements and cutout placements can save you from having to replace machinery, remodel your facility or invest in extra components.
Confirm with your supplier that your industrial panel PCs will have parts available for up to 10 years to futureproof your purchase.
Industrial-Grade Materials
Many industrial environments can wreak havoc on computer hardware. As a result, industrial computers need to be designed with rugged materials.
Most industrial panel PCs are made with SUS304 and SUS316L stainless steel to help them endure the harsh rigors of industrial operations. This type of stainless steel won't rust due to high levels of chromium which produces an oxidized shield of protection.
Many industrial environments also use armored cables to ensure reliable operation. Polyvinyl Chloride (PVC), Polyurethane (PUR) and Thermoplastic Elastomer (TPE) are just some of the industrial-grade materials used to create armored cables.
These critical elements of durability allow industrial computer systems to provide lasting reliability.
Find a Reliable Supplier of Rugged Computers
It's crucial to find a supplier with a proven track record of delivering high-quality results in various environments.
Discussing your needs with a strategic technology partner with years of expertise can save you time, help identify your needs and provide you with an excellent industrial PC solution.
Expertise
How can you know if what they're saying is true and they're not just trying to sell you? If you're not an engineer or technical specialist, they could be saying anything.
First, examine their website and see what content they produce around their products. If it's educational and in-depth, you've found a company that knows its products.
Second, notice what kind of questions they ask you. If they don't care about your needs, they'll just talk about their products. If their questions are pretty extensive, you can be sure they're trying to understand the needs of your operations.
Lastly, look at their reviews and ask what companies they've supplied with industrial panel PCs. If you recognize the names of their clients, then you can go to them and ask about their experience.
Care
They should have the values that can sustain a long-term relationship. Business relationships take stability, empathy, and communication. Does the company you're considering actually care about their service to you, or are they just trying to make the sale and move on?
This will be evident in how they communicate, how they provide ongoing support and how their customer service is set up.
Availability
Your supplier of industrial computers should have the capacity and availability for responding to support calls after the sale. An unavailable supplier could leave your operations dead in the water if your computer systems become damaged or something unforeseen happens.
---
Choose Your Industrial Panel PC Wisely
We have seen technology integrate with virtually every industry in recent years as automation and A.I. become more accessible.
Companies continue to leverage these emerging technologies to cut costs and optimize operations. The drastically changing business environment will bring new opportunities to implement technology.
When choosing an industrial panel PC, your primary goals should be to make sure it can withstand your rugged environment, fulfill the needs of your operation and be supplied by a reputable company. If you check these boxes, choosing an industrial panel PC should be a piece of cake.