New Panel PC Series Utilizing the Android OS
Charlotte, NC – May 5, 2017: Teguar is introducing a line of panel PCs with Android operating systems. The TP-A950 series has a versatile, compact size at 7" and 10", and can be placed virtually anywhere. With Android, organizations can customize their experience and develop their own business specific apps. Android uses fewer system resources than other operating systems, so devices can be smaller and more energy efficient. These panel PCs feature SoC (System on Chip) which also reduces energy usage due to using a more efficient chipset.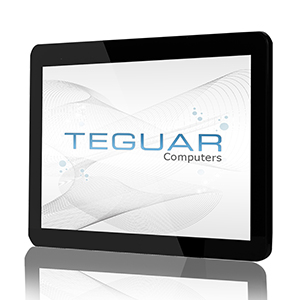 These units can be upgraded with PoE (Power over Ethernet) capabilities, which makes installation extremely cost effective as you can use the existing Ethernet infrastructure to power the units. Getting facilities rewired for electrical equipment is both expensive and time consuming. Both the 7" and 10" computers come equipped with interactive multi-touch projected capacitive touchscreens and feature several I/O communication ports. WiFi is available as an option, if needed. The 10" unit has three interchangeable expansion slots for add-on modules including a barcode reader, MSR, or RFID.
The TP-A950 series is ideal to be used as digital signage, restaurant table-top displays, room scheduling devices, in building and home automation, and building security. With their slim form and special mounting frame, they can be placed almost anywhere, including in walls, equipment, and on mounting arms. If your organization needs customizable computing, these Android panel PCs are for you. Contact us for more information on the TP-A950 series!