Technical Articles & Industry Trends
Windows 10, are you ready?
It is with much fanfare and ballyhoo that Microsoft is launching its newest OS, Windows 10. The official launch date is July 29th, 2015 and here's the kicker; it's free!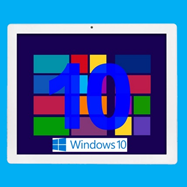 Windows 10 is free if you had already purchased Windows 7 or 8.1. Which now I believe the number of computers with a Windows 8 OS has dwindled to two and both had the OS loaded by accident.
In all seriousness, Microsoft is really trying hard on this one. The OS is the full version, not a trial. Windows 10 will be available for free for up to a year after the release date. Windows Enterprise customers can upgrade for free if they have an active Software Assurance subscription.
Windows RT users won't be left in the dark. While they won't be able to upgrade to Windows 10, an update will be available around the time of the Windows 10 release.
Some of the biggest additions to Windows 10 include changes on desktop screen view which combines the desktop view of Windows 7 (which we all know and love), and the apps version of Windows 8 (which is a large part of the reason for a free Windows 10 OS). The Start Menu is back in center stage which should be an immediate "like" for most PC users.
Also part of the package is a new web browser called Microsoft Edge. The user will be able to write or type notes directly on webpages and share from there. Another feature Windows 10 has is the ability to snap up to four different programs on the screen to see all open tasks in a single view. Overall, it appears Microsoft has heard the complaints regarding the Windows 8 OS and hopefully rose to the challenge with the creation of Windows 10 OS.
---
To reserve your upgrade go to: https://www.microsoft.com/en-us/windows/features