New 15" Android Panel PC for OEM/ODM
Teguar's new 15" Android Computer was built for public kiosk applications, point of sale terminals, and industrial environments. Housed in die-cast aluminum and with fanless heatsink cooling, this PC can handle tough environments. It is IP65 waterproof rated and has the option for 1000 nit high brightness with anti-glare coating, which makes it suitable for outdoor use. It is also MIL-STD-810G drop and shock rated, which is a military standard to measure the durability of materials. This PC can handle vibrations from machinery and abuse from users in a public or industrial setting.
The TA-A920-15 runs on a Freescale Cortex A9 CPU and supports the cost-effective Android or Linux operating systems. This computer has a plethora of customization options and showcases Teguar's ability to tailor computer hardware to specific, unique applications. Options include a built-in barcode scanner, PoE input, a payment terminal mount, sunlight readability, and an alternate I/O configuration.
We sent this computer to RuggedPCReview.com for evaluation. They called it "a very solid, heavy-duty cast-aluminum workhorse," yet, in appearance, it is "modern and almost trendy." They also noted that the TA-A920 demonstrates "the advantage of finding an experienced ODM/OEM that can not only source the proper hardware and software platform, but also configure and customize the package to the exact client requirements." RuggedPCReview points this out because the TA-A920-15 that we sent to them was a customized unit that we developed for an outdoor sports gaming application.
Read the full review from RuggedPCReview.
Customized Android Panel PC
In the video, Tom and JT explain how Teguar customized this computer for an outdoor gaming kiosk application.
Sometimes, custom computer hardware projects require a ground-up development, but more often, we take a computer from our catalog and modify it. In this case, the TA-A920-15 met many of the customer's project requirements, but needed some modifications. Customizations for this project included: eliminating unneeded IOs, to reduce overall cost; combining PoE and USB into a single cable solution; adding a 2D barcode scanner; building a customized IO cover and mounting solution; increasing LCD screen brightness and adding optical bonding; and customizing an Android OS with a boot logo, system lock down features, and preinstalled applications, to reduce the time to go live.
This project demonstrates Teguar's OEM/ODM capabilities, attention to detail, and drive to find the perfect computer hardware solution. The TA-A920-15 is a great computer for custom and OEM/ODM projects, but it's a great product right off-the-shelf as well.
Standard I/O Configuration
One of the biggest custom options, which almost makes the TA-A920-15 a whole new computer, is the alternative I/O configuration. First, let's look at the benefits of the standard configuration.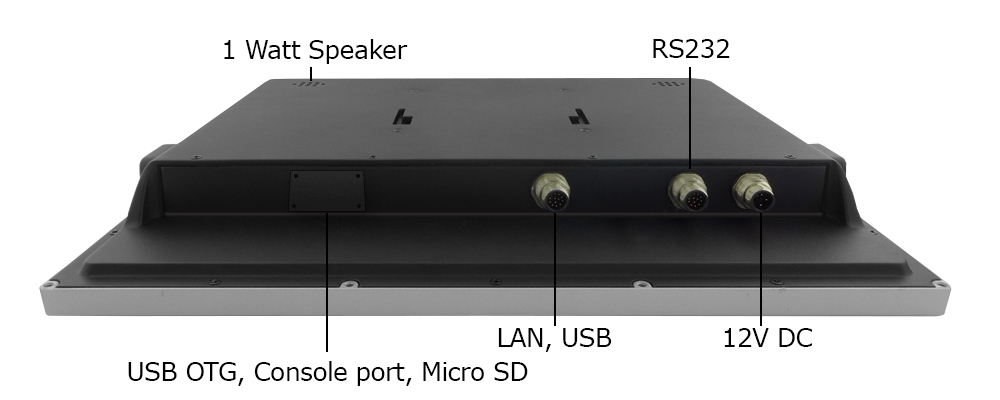 The TA-A920-15 has three M12 metal I/O connectors. The first port combines LAN and USB. The other two ports are for RS232 and a 12V DC input. This I/O configuration is simple and eliminates a lot of I/Os that are not usually needed for kiosks or point of sale terminals. It is also completely waterproof. The M12 connectors are rustproof and seal out water and moisture.
Alternate I/O Configuration
If you need more I/Os, this configuration is a good option, but it does mean that the computer is no longer fully waterproof. While the I/O area is not waterproof, the rest of the computer is still IP65, so you can spray the touchscreen for cleaning. If you panel mount the computer or are not installing it where it's is exposed to moisture, then no need to worry. This configuration includes 3x COM, 1x Micro USB, 1x LAN, 1x USB.


Windows Panel PC and Related Products
The TA-A920-15 has the same housing as Teguar's TWR-2920-15. The TWR-2920 runs on an Intel Celeron N2930 Quad Core Processor and can run Windows 10 Pro, Windows 10 IoT, or Windows 7. The Windows version also comes in a 10" screen size. RuggedPCReview.com compared the TA-A920-15 with a few similar Teguar products in its review, including the TP-A945-15, the TR-2920-15, and the TS-5010-15.